Supplies You Will Need
Supplies You Will Need
This is a printable planner designed to print off and write in. To print at home, you will need to following supplies. You may also find it cost-effective to take to a local store and get the planner printed.
Please note: I do not recommend binding the printer as binding a planner makes it difficult to change out the pages as you need.
Some of these links are affiliate links. To make it easier for you, I have a list here on my Amazon store.
To make the most of this planner, you will need:
Printing Settings:
Depending on your printer, you may have a few options to help you make the most of your planner.
**Please note: colors may vary depending on the printer you are using. This means the planner may look one color on your screen and another went printed. This is normal.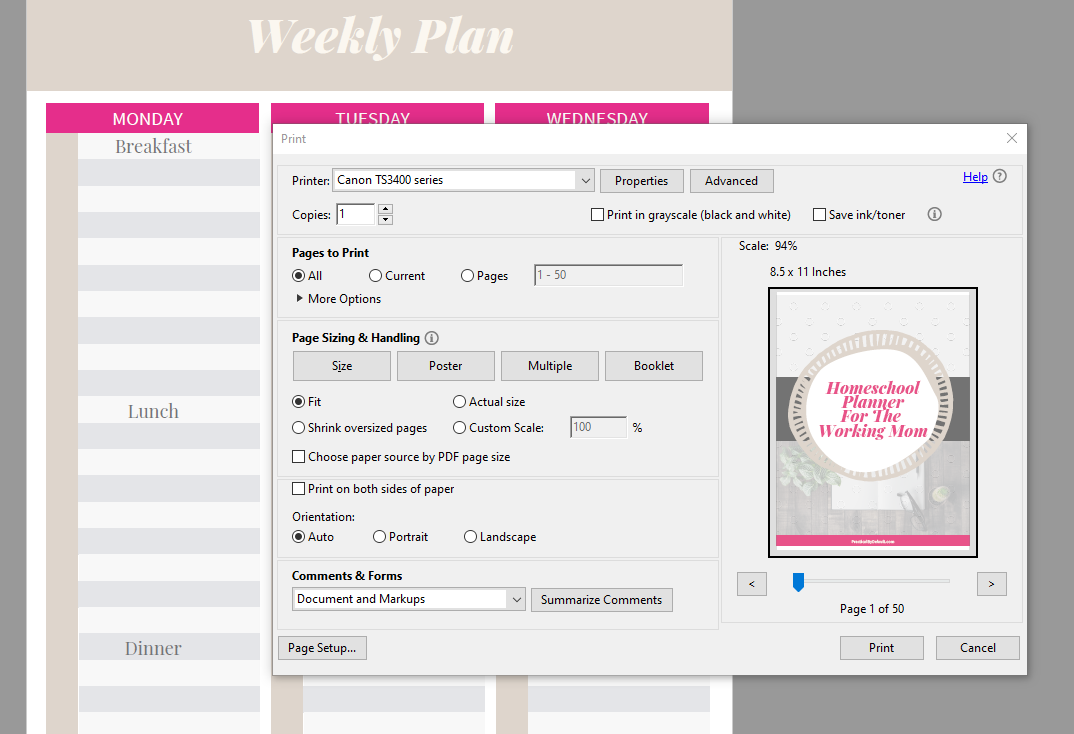 Above is a screenshot of my printer's settings. From here I can choose "greyscale" or choose "toner saving option", this will change the color you see.
You can also choose to change the size of your paper. If you are using the Classic Happy, you'll need to change your % for printing. Again, each printer is different. Under the size tab, set the "custom scale" to 84%. (This may need to be adjusted depending on your printer!) Then, print your page.
Lastly, if you like to open the planner and see the whole week you can print it on both sides of your paper. Choose "print on both sides of paper" and the "flip on the long side" to make it look like a book.
I would practice printing a page or two in black and white until you get everything set up and then print in color.
BONUS: SAVE ON PRINTING NEEDS!
If you want to send your pdf's to be printed, Watson Family Press is offering you an exclusive discount! USE WHMC at the checkout to save 10% off!
Watson Family Press is owned and operated by a homeschool family with over a million pages printed, Watson Family Press offers affordable, high quality printing and finishing services, shipped to your door. Not only an expert in printing curriculum, Watson Family Press caters to an array of printing needs including planners, cookbooks, devotionals, invitations, flash cards, ebooks, and more! Shop small, support a real, homeschool family like yours, and save up to 70%! Check out www.watsonfamilypress.com/order-now to get an instant estimate for your printing and binding needs.
Complete and Continue