CONQUER CLEANING CHAOS ONCE AND FOR ALL!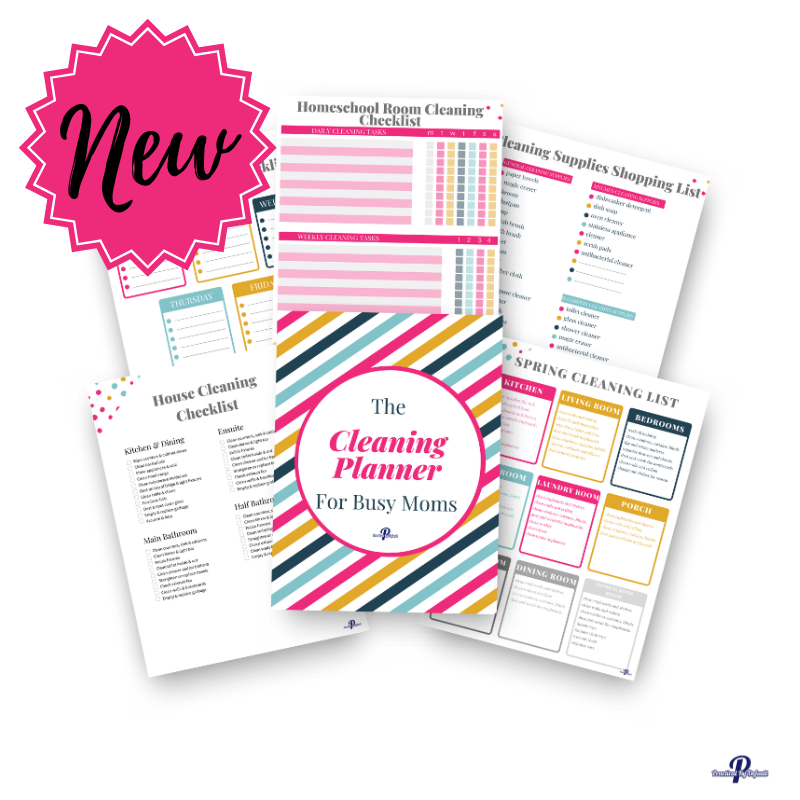 The Cleaning Planner For Busy Moms
Cleaning Your House Can Be Simple As Checking A Box!
Get Instant Access to the PDF file, including:
32 pages
House Cleaning Checklist
Cleaning Chores For Kids By Age
Daily + Weekly tasks list
Room by room checklists
Spring / Fall cleaning task lists
Cleaning supplies inventory list
Undated pages - reuse it every year!
Print it out instantly and get on top of your cleaning schedule once and for all!
Does the mess in your home feel like chaos?
You're a working mom.
You homeschool your children, make dinner, and drive to soccer practice.
You're noticing dirty dishes quickly gathering in the sink, dog hair making little tumbleweeds, and your kids could probably hike the piles of laundry next to the washer. 
You know you need to clean the house. 
But, when do you have the time you end up second -guessing instead of cleaning!
What needs to be cleaned? How do you keep track of it all? What cleaning supplies do I have?

The Cleaning Planner Is Exactly What You Need!


✅ If you need a step by step plan to follow takes the overwhelm out of cleaning!
✅ Use this planner to organize your cleaning tasks.
✅ No more second-guessing what needs to be done.
✅ Checklists help keep us focused on the task at hand and ensure nothing is missed. 

Break Down Your Cleaning Tasks
Use daily and weekly cleaning checklists to help you stay focused.
Quickly identify what needs to be done each day.
Cut out distractions by listing weekly cleaning tasks on their own separate sheet!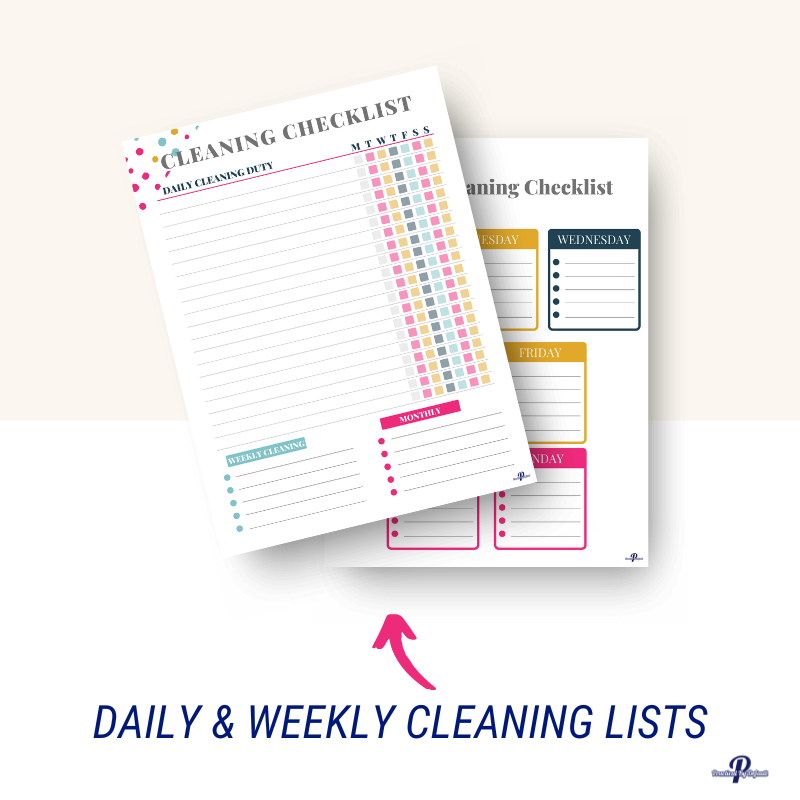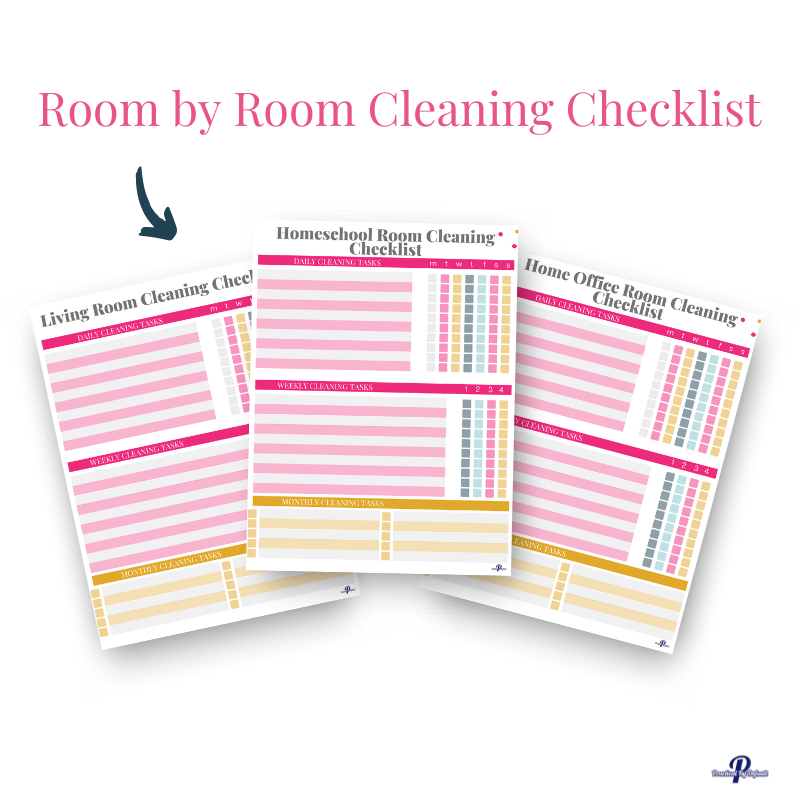 Room By Room Cleaning Lists
Use these room by room checklists to stay focused.
These lists are perfect for knowing exactly what needs to be cleaned in each room and not getting distracted.
Or fill out the list and hand it off to your older kids to clean for the week!

Do you hate spring cleaning as much as I do?
Use these seasonal cleaning lists to cut out the overwhelm and know exactly what big tasks need to be tackled!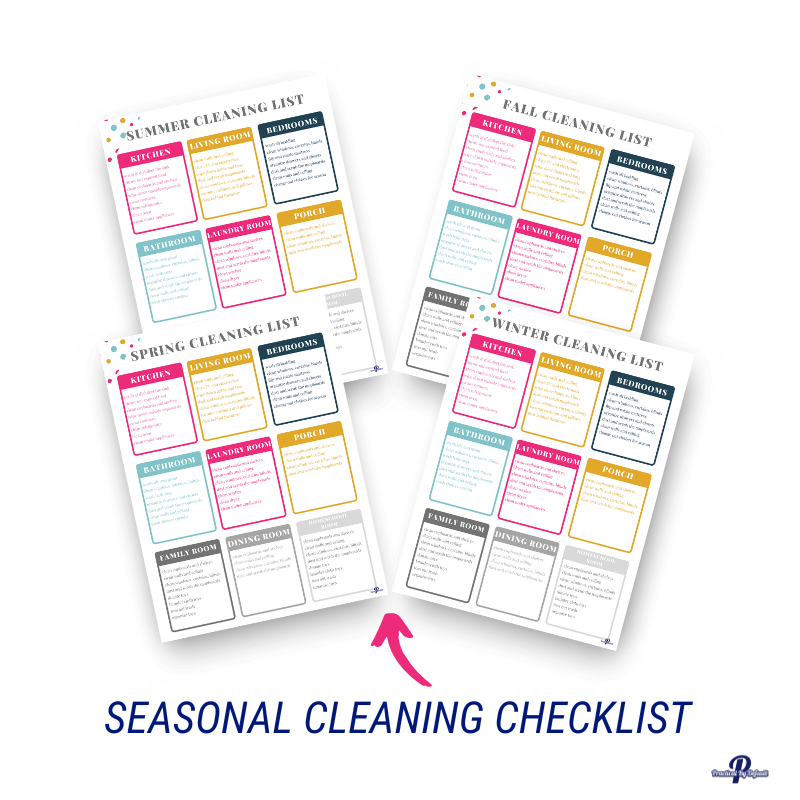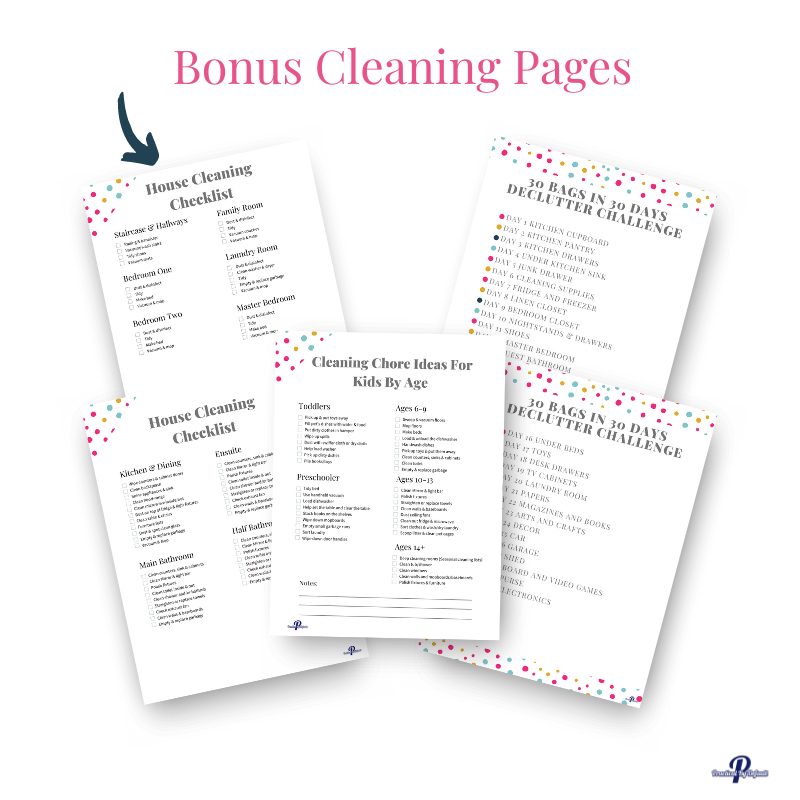 Bonus Cleaning Pages
Take the guess work out of cleaning with these bonus cleaning pages:
House cleaning checklists by room
Cleaning chore ideas for kids by age
30 day decluttering challenge
Cleaning supply list
and more!
Frequently Asked Questions
How will I get my planner after I purchase?
The access to your planner will come via email! You'll be given access to a dashboard where you can download your purchase anytime you want and on any device.
Do I get a physical planner?
No, this is a digital file designed to be printed and written on. This reduces the costs AND allows you to design a planner for your home. Print as many pages as you need (perhaps you have 3 children and want three copies of "child's bedroom" sheet instead of 1 etc.)
Do you offer refunds?
I offer a 10 day money back guarantee because I seriously LOVE this product and know it's totally worth it. 
100% Satisfaction Guarantee
We understand that not every product is the perfect fit. Due to the digital nature of this product, we are limited in how long we can offer a refund. If you don't find that the course fits for your family, please let us know within 10 days of purchase for a full refund. After that time, we will not be able to offer a full refund.