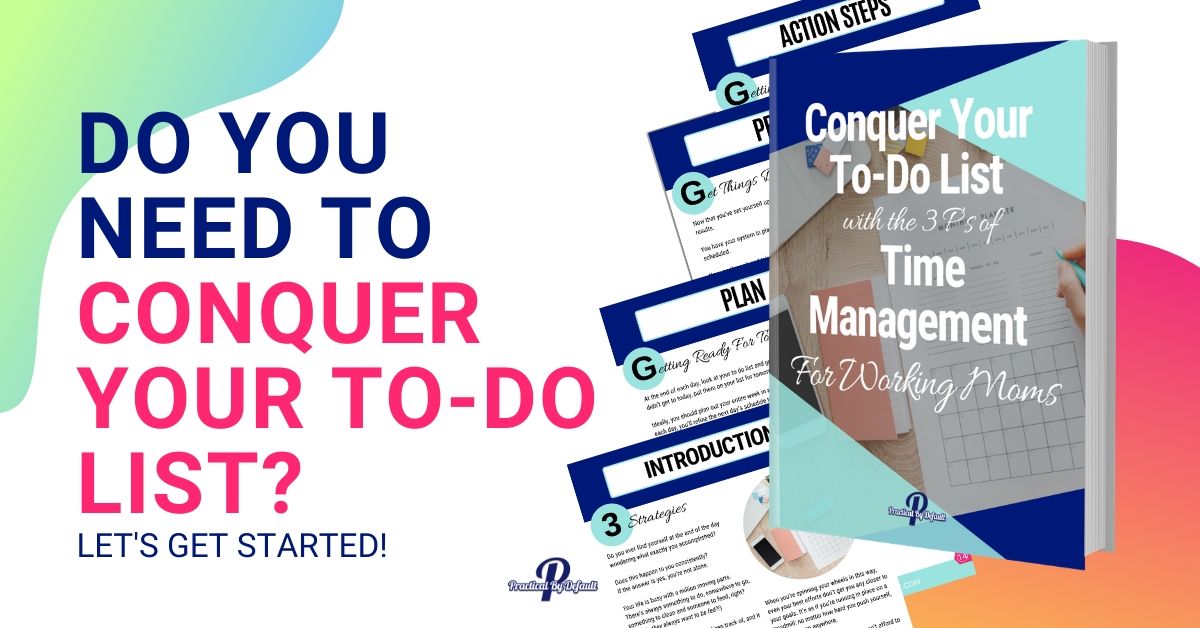 At the end of the day do you ever find yourself wondering what exactly you accomplished?
There are tons to do, so much to keep track of, and it can feel a little overwhelming at times!
And that's exactly why I created the 3P system of getting things done.
Get Your To-Do List Done!
With this eCourse and Action Guide, you can go from to-do to done.
I'll show you how to take all those tasks swirling in your brain and turn them into organized, easy-to-follow plans. Then you can get everything done that you need to get done, when you need to get it done!
When you can prioritize, you can plan. And when you have a plan, you can produce. Less stress, less wasted time, and more time for the important things in life — family, friends, and maybe even a little self-care.
When you use this eCourse and Action Guide, you'll get a step-by-step system that you can reuse over and over again. It's the same system I use every time life changes, so that I can adjust with minimal fuss.
I needed something that I could adapt to any planner, organizing system, or time management technique that worked with my life at that moment. And this works, no matter if you prefer digital or paper-based planning, or if you use time blocking or loop scheduling, or if you're a stay-at-home-parent or a frequent traveler.
I'm a working, homeschooling mom of 2, and I have a lot to do. I know the value of taking charge of your goals, taming your hectic schedule and creating a life that I can run, not one that runs me.
Are you like me?
Too busy to do the things you really want to do
Frustrated by the things that you aren't getting done
Feeling like you're running around doing so many things with nothing to show for it
Wondering where all the time went
And feeling like there aren't enough hours in your day!
As a working homeschooling mom, you just can't afford to throw away any precious minutes in your day!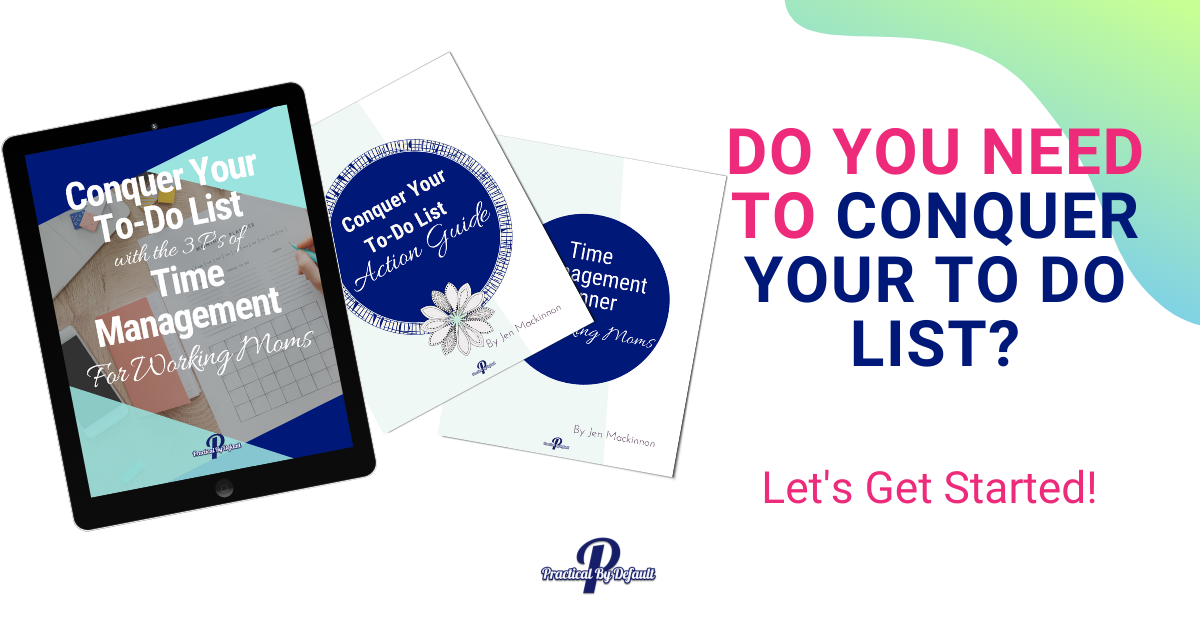 With the Conquer your To-Do List eCourse, you can manage the time you have… better!


The eCourse will walk you through the 3P system of setting up your to-do list, so that you get an immediate boost in your productivity. Then you can get off the "time treadmill" that leads to nowhere, and finally get on the path to achieving your goals, no matter what they might be.
With the eCourse, you'll get the Action Guide. This Guide will give you the best results from the eCourse, helping you put into practice everything you learn, right away. You can record your thoughts, answer questions and create your own plan, right in the Action Guide.
What does the eCourse cover?
In the introduction, I'll help you clarify your goals and distractions.
And we'll get ready for the rest of the course, so you can get the most out of it, quickly.
Step 1 talks about the first P in the 3P system: Prioritization.
Using a simple brain dump, I'll show you how to organize all your tasks, so that what NEEDS to get done, is what ACTUALLY gets done!
Step 2 brings up the second P in the 3P system: Planning.
I'll share with you some of the scheduling techniques that work for me, along with how I deal with interruptions and emergencies. And I'll show you my fool-proof method for creating a plan that works, every time, with any planning system!
Step 3 is where we put it all into motion and do the third P of the 3P system: Production.
I'll give you the 7 tips I use to stay on task and on track with my plans. And I'll give you 7 simple shortcuts to help you make the most of your time.
Finally, we'll look at how to review, revise, and renew your planning when life changes. Because it will change. But the 3P system can be used over and over again, no matter WHAT changes in your life.
Get started right away!
Since this eCourse is an instant download, you don't have to wait to change your life. You can hop off that treadmill of wasted time, and start building the perfect plan that produces results, now.
And no matter how big or small your to-do list actually is, you can conquer it with the 3P system.
No more feeling stressed because you didn't get everything done.. again.
No more feeling overwhelmed at the size of your to-do list.
No more wasting time because you just don't know where to start.
And no more losing track of time because life happened and you got interrupted.
After completing your Action Guide, you won't have more time, but you will have a much better grasp on how you use the time you have.


You'll know exactly what you need to be doing at any given moment. And you'll be able to do everything you need to do, quickly and easily.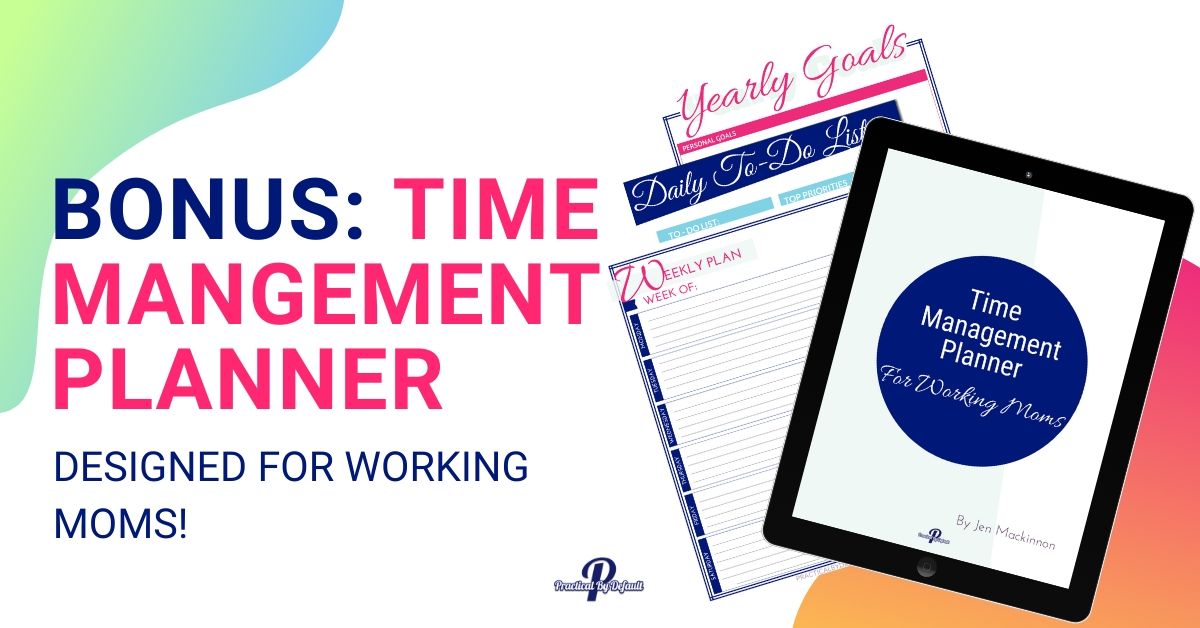 Bonuses Make Everything Better!
Everyone likes bonuses.. SO, not only are you going to get the step-by-step course book & action guide to conquering your to-do list but you will also get…
Bonus: Time Management Planner For Working Moms ($19.99 Value, Yours FREE)
This planner is designed to help you plan out your time and manage it in the best way possible for your life.
In this planner you will find:
Brain Dump Pages
Bonus: Year At A Glance Page (2022)
Yearly Goal's Page Overview
Yearly Goal's Pages Monthly Breakdown
To-Do Lists
Daily To-Do List
Weekly Undated Pages
Monthly Undated Pages
Review pages
Pick and choose the pages you need and print them off. Don't forget to make planning part of your regular schedule.
Who Is The Conquer Your To-Do List eCourse & Action Guide For?
⇒ Any working mom who has an overwhelming amount of tasks on her to-do lists!
Creating a to-do list is a great start! But it is not enough. This eCourse helps you take that to-do list and and organize that list in a way that fits you.
⇒ Anyone who is willing to put the hard work in to see results.
In order for this system to work you need to be willing to do the steps, test it out for a few weeks and review. Don't worry I show you how to do all of that -EASY! But if you aren't willing to do the work, the system won't work for you.