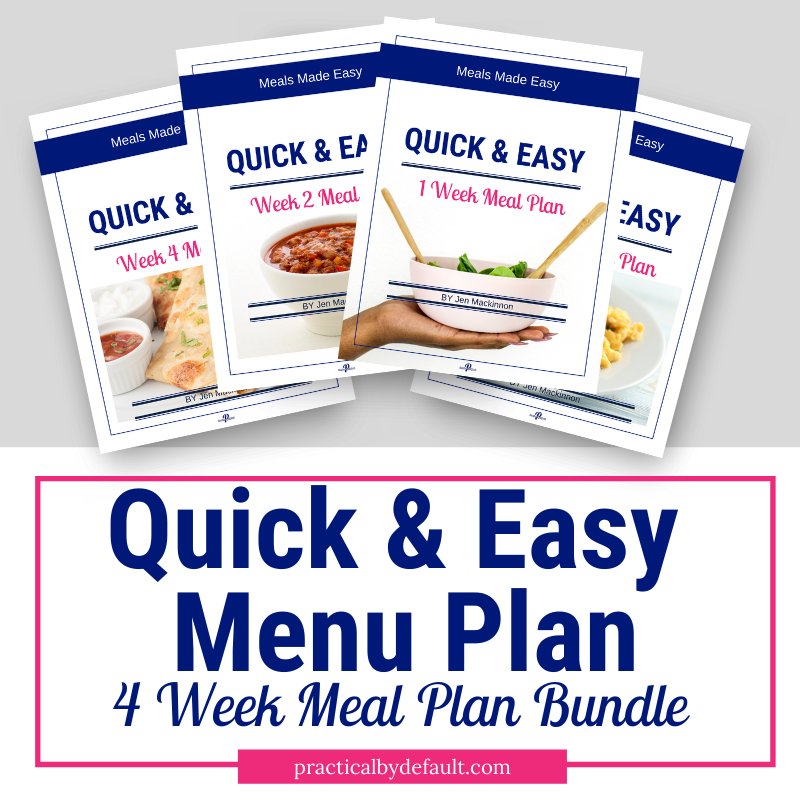 Stop Scrambling To Figure Out What's For Dinner With Done-For-You Meal Plans
Planning your meals ahead can make or break your success when it comes to being a working mom.
But who has time to figure all that out?
That's why I've done the work for you and have created The Quick & Easy Meal Plan Bundle, your step-by-step guide for getting dinner on the table FAST!
Grab the Quick & Easy 4 Week Meal Plan Bundle and stop stressing about dinner! - $29
Cooking Dinner Every Day Can Be Exhausting!
It's 5:45 pm and you've been asked the dreaded question at least 10 times in the last 15 minutes…what's to eat?
As long as you have kids, they are going to want to eat! #truestory and if you think the toddler years are fun, just wait until you have teenagers. *insert evil laugh*
As a working mom, who is also homeschooling, dinner time can be HARD!
Trust me, I've been in your shoes!
Does this sound like you?
You have food in the house but you have

no idea what to make

?

You struggle to find

quick and easy meals the whole family will enjoy

?

Your

kids complain

about eating the same meals over and over again? (Hello Taco Tuesday!)

You know meal planning is best but

you don't have time to hunt down new recipes.

You

waste a lot of money

getting delivery or picking up something pre-made on the way home from work because you don't have anything prepared. 

And then the guilt kicks in

about feeding your family junk.

Sigh.
But It Doesn't Have To Be This Way!
Imagine how your life would change if...
How you'd spend the extra time you now have because the delicious meals you cook are quick and easy.
You stopped wasting time looking for quick and easy meals the whole family will enjoy?
You could make dinners everyone loved and actually looked forward to instead of the same old meals on repeat.
You stopped stressing over what's for dinner because you have a plan?
You ate take out as a celebration not a last ditch effort for dinner?
Saved money on groceries because you had a list?
Done for you meal plans to the rescue.
Don't worry, momma, I got you! These done for you meal plans will help you jazz up your weekly meal plans without feeling like you need to reinvent the wheel.
The Quick & Easy 4 Week Meal Plan Bundle Includes:
This 4-week set of menu plans includes 32 recipes and 4 shopping lists.
Each weekly menu plan includes 6 main course recipes, plus 1 breakfast and 1 dessert recipe.
Each week consists of a food prep list for the week to help you get organized.
Plus, each weekly plan comes with a handy, printable shopping list to take the guesswork out of going to the grocery store.
Everything you need to get dinner on the table, stress-free!
Use these recipes to help you:
Get dinner on the table in less than an hour
Discover new easy recipes your family enjoys
Fill out your weekly meal plan rotation
Kick that mom guilt to the curb!
And help you save time and money
Creating A Dinner Plan Has Never Been Easier!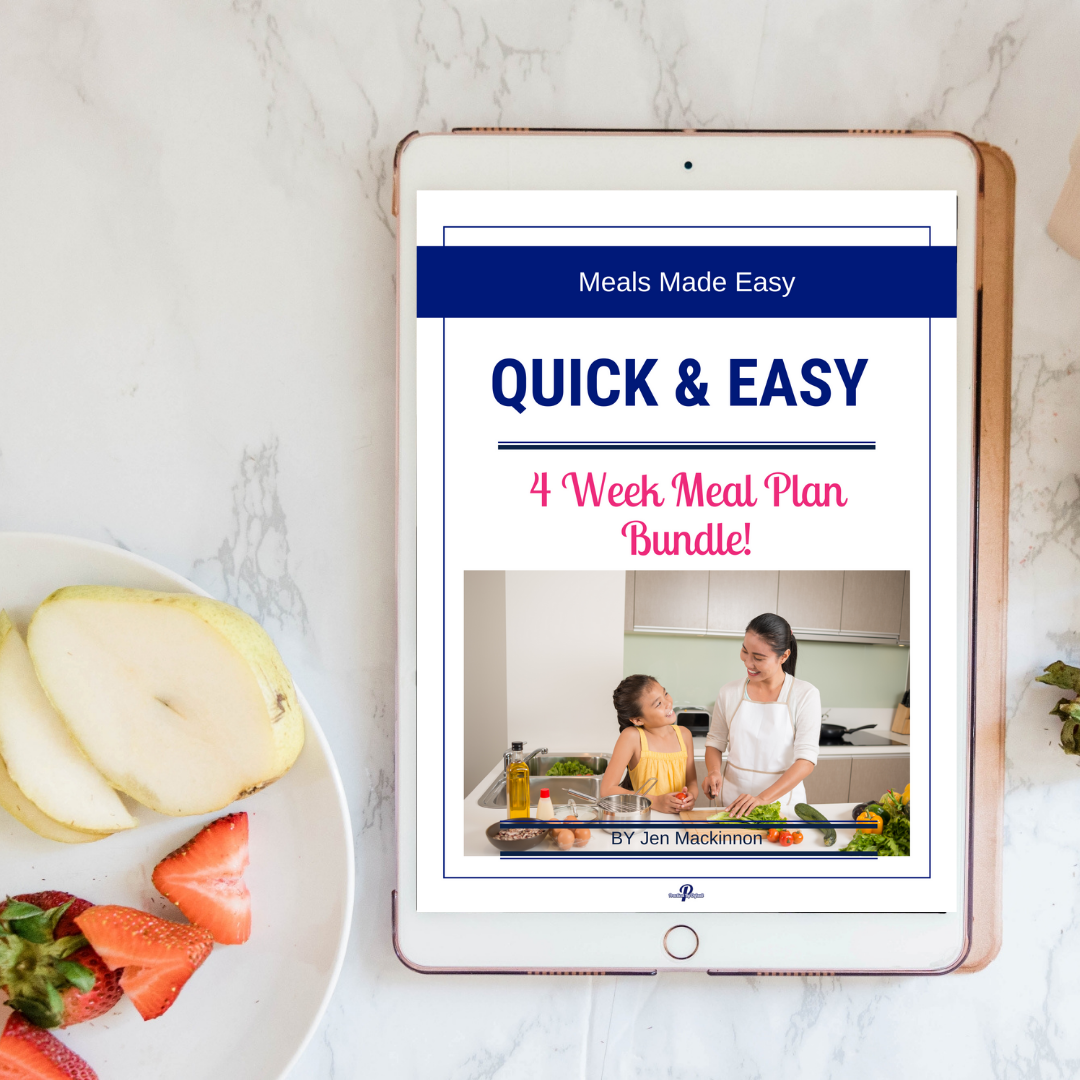 Step 1: Download Your Meal Plan
Choose the weekly plan you will use this week!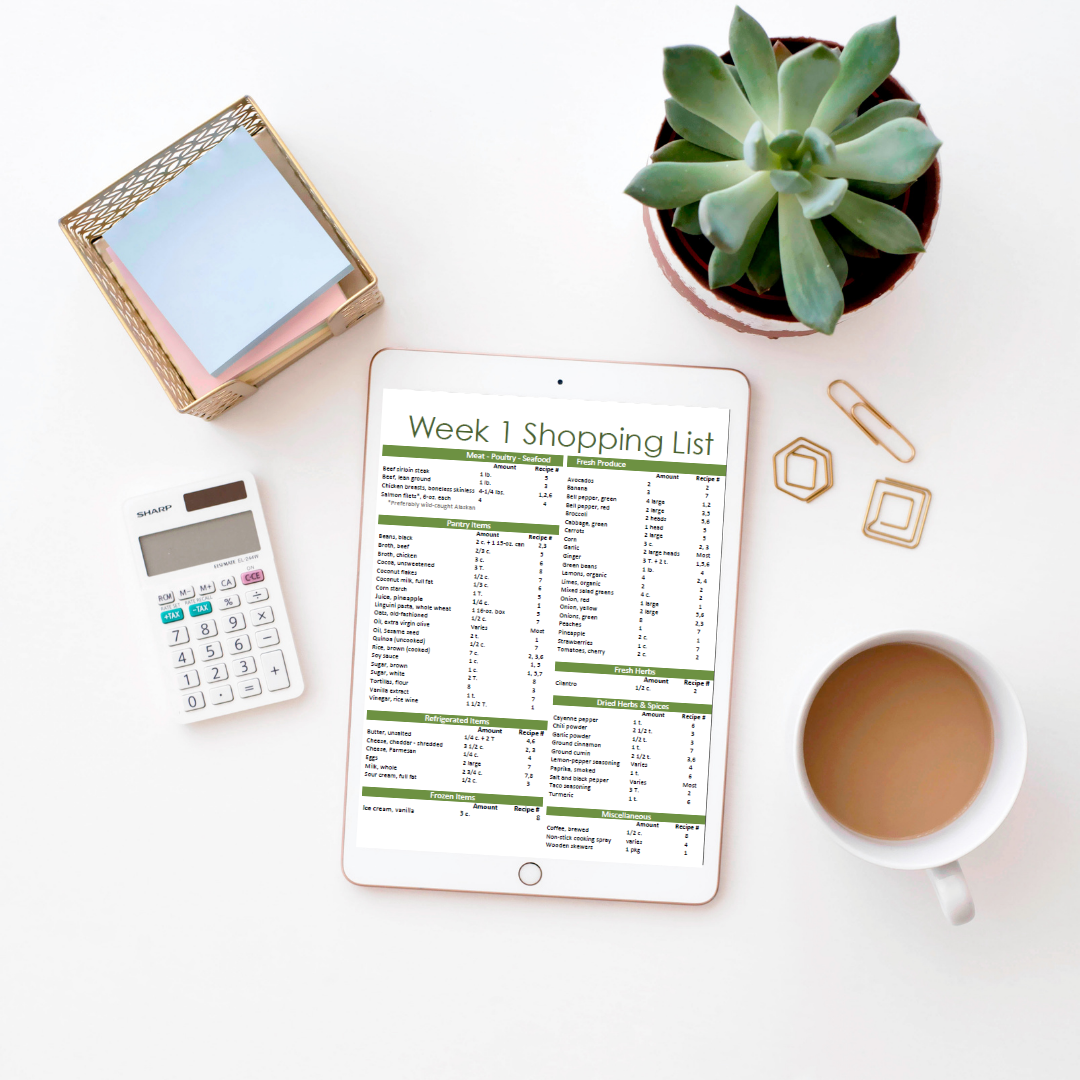 Step 2: Use The Shopping List
Check your list to see what ingredients you need and shop! No second guessing at the grocery store!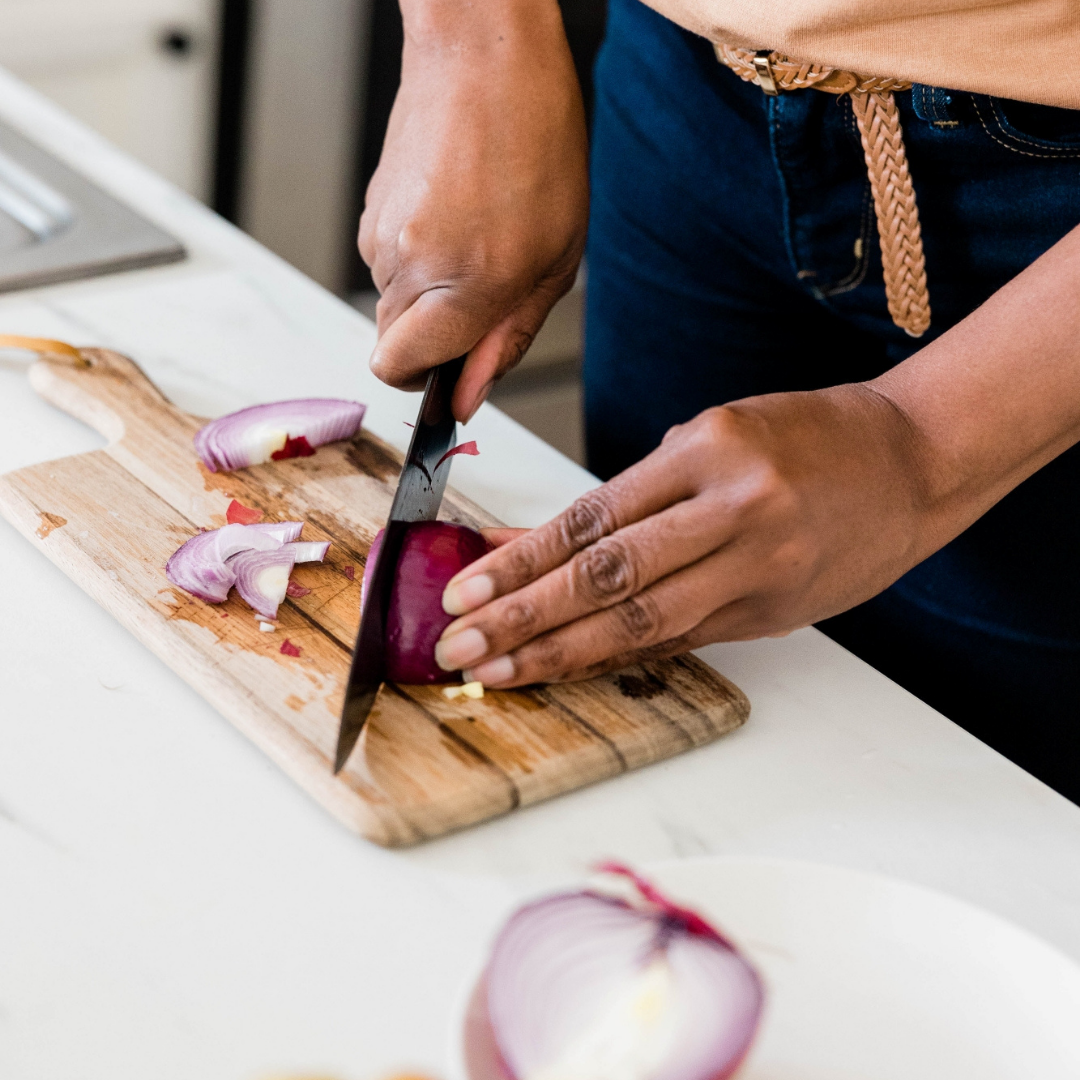 Step 3: Check Your Plan & Cook!
After a busy day, you'll know exactly what to make. Check the plan and get cooking!
Recipes Included:
Each weekly menu plan includes 6 main course recipes, plus 1 breakfast and 1 dessert recipe.
Bonus: Meal Planner For Working Moms
As a busy working mom who is homeschooling her kids, you don't have time to waste!
And you definitely don't need the extra serving of guilt when you realize you have nothing for dinner!
Stay on track of all of your meal planning and keep it simple with Practical Meal Planning For Working Homeschool Moms!
What You Get:
This 48-page printable planner includes:
Monthly Meal Planning Pages (13 pages, undated, in calendar style)
Weekly 3 Meal Plan Pages (2-page spread)
Weekly Meal Planning Page + Grocery List
Weekly Meal Planning Page + Snacks
Family Favorites Recipe Tracker
Inventory Pages for your Pantry, Freezer, and Fridge
Shopping List
Notes Page
Sample Meal Plan
Recipes
Inspirational Quotes
PLUS BONUS: Training video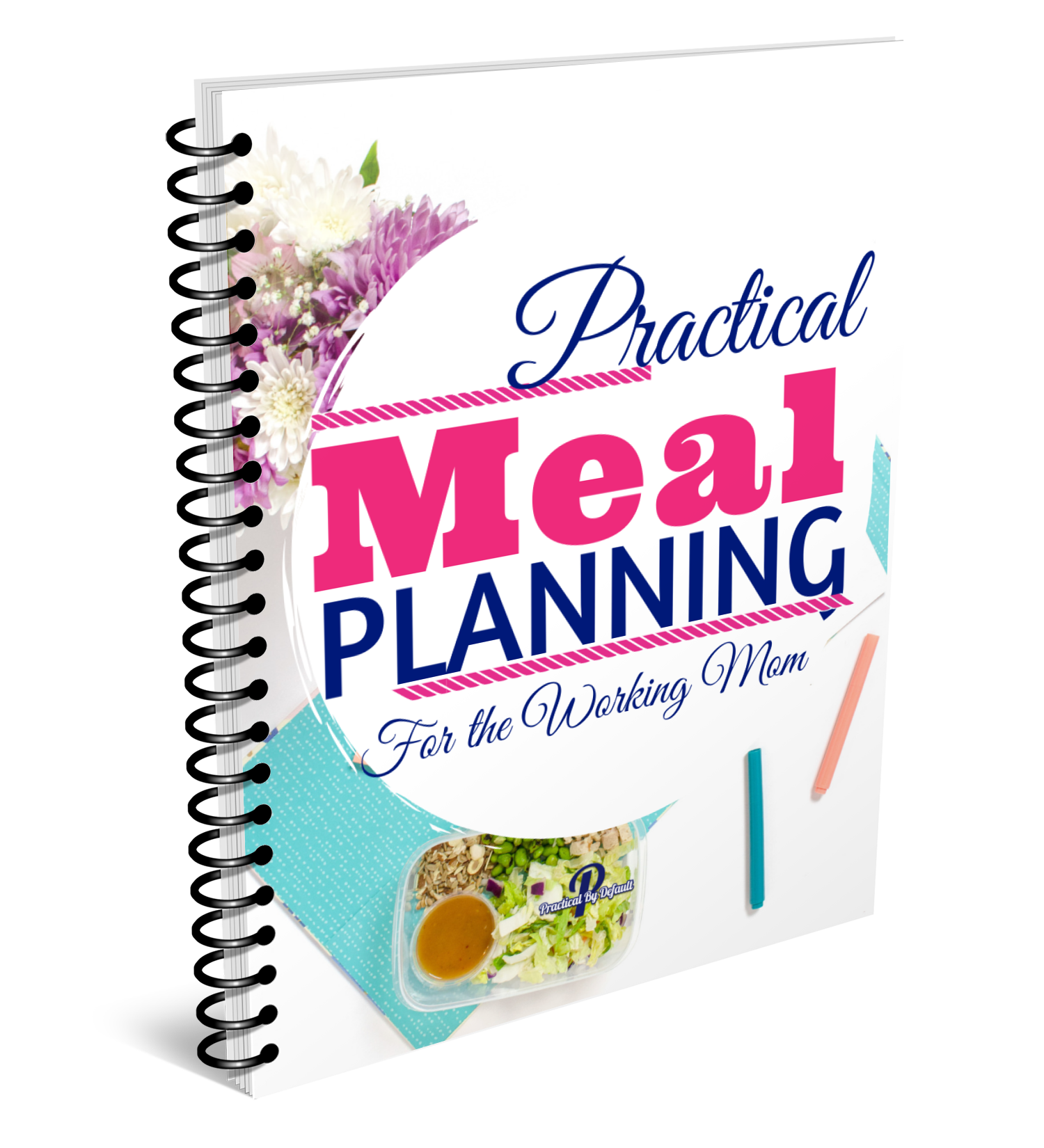 Frequently Asked Questions
How will I get the product after I purchase?
The access to your purchase will come via email! You'll be given access to a dashboard where you can download your purchase anytime you want and on any device.
I have food intolerances or allergies, how do I know if this is safe? 
While these recipes are not gluten-free, corn-free or dairy-free, you should be able to swap ingredients out easily for alternatives.
Always double-check the ingredients of spices, canned items, etc., as gluten likes to hide.
Do you offer refunds?
I offer a 30 day money back guarantee because I seriously LOVE this product and know it's totally worth it.